Trails of Middle Earth Tour (Chinese)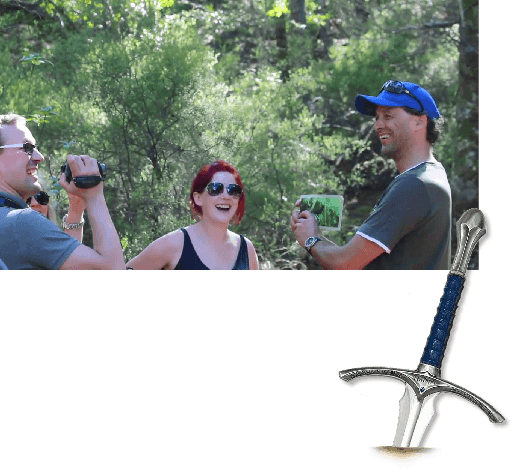 Duration: 7 Hours
Location: Glenorchy
Product code: PUUP4Y
As one of the first LOTR companies in New Zealand, we have amassed a
wonderful selection of locations, sights and scenes to bring the movies
to life for you. No other tour company can offer what you will discover
and see on this tour so come with us as we whisk you away for a day long
total Middle-earth experience.

Highlights
Visit Locations of Ithilien, Gladden Fields, Ford of Bruinen and The Argonath
A delicious lunch in a restaurant
View 'top secret' items from the movie
Traveling in small groups for a personal and interactive experience
A chance to look through the scripts and other memorabilla
Your entertaining and knowledgeable guide will help you uncover the
secrets behind how each area was transformed into Middle Earth
Some of the finest scenery in the world
NZ$15,000 worth of weapons and costume items for you to handle and photograph
Exclusive souvenir package with 3 items (Only available in the one-day tour)

Itinerary
Location: Arrowtown, Kawarau, 12 Mile Delta and Wakatipu
Daily departure at 10 am from Queenstown central. For Wanaka pick up/drop off please contact us to arrange.
Restuarant lunch
Returns Queenstown central approximately 5:30 pm
Pickup
Please contact us to arrange
Drop Off
Queenstown Central
Wanaka Central
Note
Only 1 free infant participant with each paying adult
Senior participant is for age between 65 and above
Child participant is for age between 8 and 15 years
Infant participant is for age 7 and under
Cancel Policy
All cancellations must be made in writing and acknowledged by us.
When confirmed reservations are cancelled within the following time periods, cancellation charges will apply:
30-15 days prior to travel – 25% of tour price
15-7 days prior to travel – 50% of tour price
7-0 days prior to travel or no show – 100% of tour price